Audio Interviews with Atom
Internet Audio
Starting from around Nov/Dec 2019 you may find video versions of ORN interviews on Patrick Timpone's Videos page …!
Because of changes at One Radio Network in March 2017, some direct download links for their older shows may remain broken. However, you can still use our links to their pages and listen/download most of them from there.
The first interview link (show — date) is the source page and may contain a synopsis. Links between parentheses go right to the sound file or SoundCloud.
For fluent playback/review it is advised to save them to your computer or device where you can use your favorite player (see listening tip).
All content from previous sites mentioned in early interviews is now on this site and/or sunsyncnutrition.com
Listening Tip
To save an .mp3 file to your computer or device, try invoking a context menu over an audio link (right-click, Ctrl+click, or keep a finger down over the link) and select "Save as …" (or similar). Some operating systems may offer you this option by simply clicking/tapping the link. Remember where you saved it and execute the file. An audio player should open up for you.
Some players allow you to control the playing speed. By speeding the player up you can save time or hear more material. Slow it down if that helps your understanding.
One such renowned software available for most platforms is the VLC player ("Completely free, no spyware, no ads and no user tracking"). Here is where to set it on the PC version. Controls are also assignable to keys of your choice (Tools > Preferences > Hotkeys; '+/-' may even be the default) and buttons.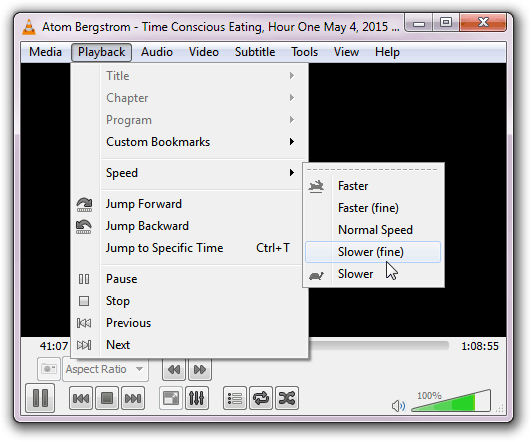 Some of these same interviews can also be found on YouTube where you can adjust the playing speed (more coarsely) as well (click on the player's gear wheel for Settings > Speed).